Our Other Websites
* Courier/Shipping charges are extra as depend on your order.
* The much you buy the less will be shipping charges.

| | |
| --- | --- |
| Horse Drawn Carriages For Touring Joy Rides | |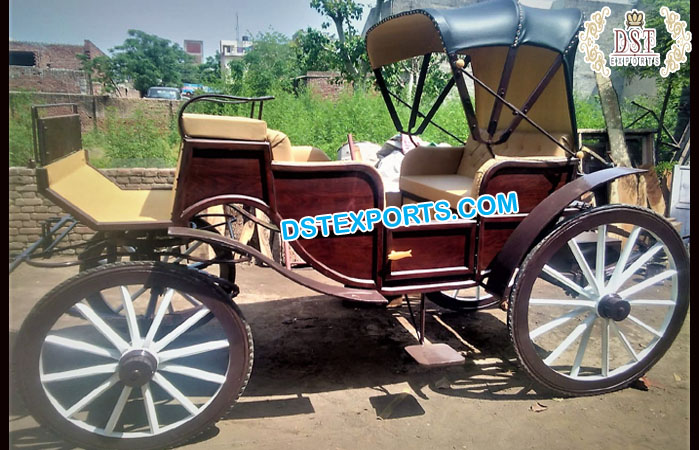 Stylish Tourist Victorian Horse Carriage Florida:- This is Special Touring Carriage Designed and Manufactured by DST EXPORTS INDIA. We are manufacturing and exporting all types of horse-drawn carriages and buggies from the last 75 years in INDIA. We are providing our carriages overall countries like ó Austria, New Zealand, Germany, Malaysia, FIJI, South Africa, Europe, and a lot more nations. It was fashionable throughout the 19th century. This Victoria carriage has a capacity of 6 person seating and one driver seat. It is truly comfortable and totally handwork. We are making the carriage very beautiful and strong for very long life. Some of our carriages are 75 years old and still in museums. Excel Shafts are ms steel and fitted with bearings. Steering is very soft moving like power Steering of cars and made of wood and steel. Wheels are wooden with steel rims with rubber. The top body is made of treated wood. Seats are very beautifully furnished with leather foam and crystals. The design of this carriage is very beautiful and attractive. This carriage is totally folded and flexible. All carriages are fitted with disc brake. We can use this for multipurpose include:- the entrance of weddings, stage decoration, events, anniversary, etc. This carriage has a royal and modern look. For any type of query or if you want to make any changes in this product you can freely talk with us on our contact/Whats-app no.- +919815224101, +917696522022

DSTEXPORTS are best manufacturer and exporter of all horse-drawn carriages manufacturer such as Air Condition Fitted Horse Drawn Buggy, Tourist Long Horse Drawn Buggy Carriage, Stylish Victoria Touring Horse Buggy Vehicle, Royal Black Horse Drawn Buggy Carriage, Royal Presidential Horse Buggy Carriage Ruth, Traditional Indian Black Buggy Carriages, Black Victoria Buggy Carriages Maker, Museum Horse Drawn Carriage, Vis a Vis Carriage, Small Victorian Style Carriage, Maharaja Horse Drawn Buggy Carriage For Sale, Elegance Wedding Victorian Horse Drawn Carriage, etc. We also supplied Horse Carriage Decorations and accessories such as horse costume, horse belts, carriages lamps, etc so please feel free to contact us and give us chance to serve you the best. These carriages are available as two-seaters, three-seaters, four-seater, five-seaters, depending on the clients' requirements.