Our Other Websites
* Courier/Shipping charges are extra as depend on your order.
* The much you buy the less will be shipping charges.

| | |
| --- | --- |
| Presidential Royal Horse Drawn Carriage | |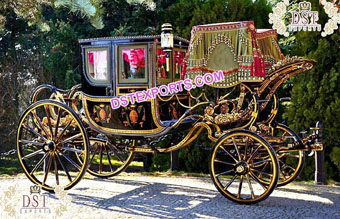 Antique Black German Horse Drawn Carriage:- This is Antique Black German Horse Drawn Carriage. This Collection is presented by DST Exports INDIA. We are the Original Manufacturer and exporters of such Carriages. This Carriage is well known as Antique Black German Horse Drawn Carriage. We are providing our carriages overall countries like - Austria, New Zealand, Germany, Malaysia, FIJI, South Africa, Europe, and a lot more nations. The term Brougham was a light, four-wheeled horse-drawn carriage built in the 19th century. It was named after the politician and jurist Lord Brougham, who had this type of carriage built to his specification by London coach builder Robinson & Cook in 1838 or 1839. These carriages were used by people who belonged to the higher class in society. It had an enclosed body with two doors, like the rear section of a coach. It has many seats, Front for carriage driver and middle for a customer. This carriage has a maximum of 4 passenger's Seating capacity. There is two option available in this carriage one with AC and another without AC.. The four wheels were capable of turning sharply. This carriage is lightweight and suspended on elliptical springs. It is truly comfortable. It has no. of seats, Front for carriage driver and Double Seats in the middle for the customer. This carriage has a maximum of 4 passenger's Seating capacity. This carriage can be pulled by using two or more horses. Chase or body of the carriage is made of ms steel fabrication. Excel Shafts are ms steel and fitted with bearings. Steering is very soft moving like power Steering of cars and made of wood and steel. Wheels are wooden with steel rims with rubber. The top body is made of treated wood. Seats are very beautifully furnished with leather foam and crystals. The design of this carriage is very beautiful and attractive. This carriage is totally folded and flexible. All carriages are fitted with disc brake

DSTEXPORTS are best manufacturer and exporter of all horse-drawn carriages manufacturer such as Air Condition Fitted Horse Drawn Buggy, Tourist Long Horse Drawn Buggy Carriage, Stylish Victoria Touring Horse Buggy Vehicle, Royal Black Horse Drawn Buggy Carriage, Royal Presidential Horse Buggy Carriage Ruth, Traditional Indian Black Buggy Carriages, Black Victoria Buggy Carriages Maker, Museum Horse Drawn Carriage, Vis a Vis Carriage, Small Victorian Style Carriage, Maharaja Horse Drawn Buggy Carriage For Sale, Elegance Wedding Victorian Horse Drawn Carriage etc. We also supplied Horse Carriage Decorations and accessories such as horse costume, horse belts, carriages lamps etc so please feel free to contact us and give us chance to serve you the best. These carriages are available as two-seaters, three-seaters, four-seater, five-seaters, depending on the clients' requirement.