Our Other Websites
* Courier/Shipping charges are extra as depend on your order.
* The much you buy the less will be shipping charges.

| | |
| --- | --- |
| Funeral Horse Drawn Carriages Maker | |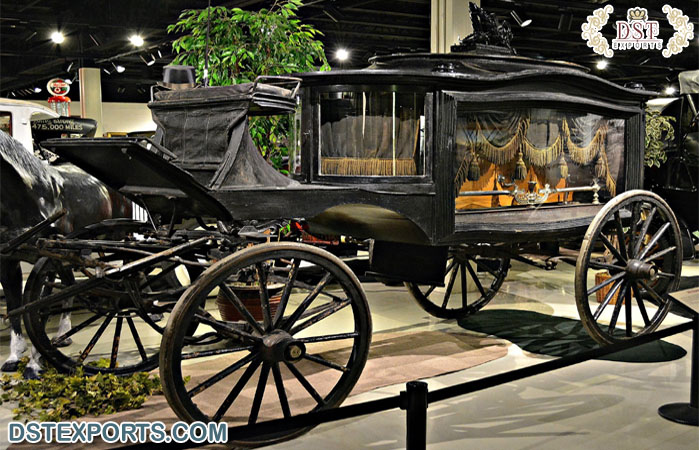 Horse Drawn Black Casket Carriage/Hearse:- DST EXPORTS is one of the finest manufacturers, supplier, and exporter of all types of Horse Drawn Carriages. This is Horse Drawn Black Casket Carriage/Hearse. This Black Funeral Carriage is Designed and Manufactured by us. This Funeral Carriage is especially for our Foreigner clients to give a warm last goodbye to their loved ones. A horse-drawn hearse carriage can be a more traditional tribute to your loved one, adding a real sense of occasion to the funeral. The funeral carriage is used to carry a coffin/casket/urn from a church or funeral home to a cemetery. This carriage is a beautiful and peaceful way to commemorate your loved one on the way to their final resting place. In the funeral trade, hearses are often called funeral coaches. The Funeral carriage is used to carry the dead body. A Glass Coach Funeral Carriage can be a more traditional tribute to your loved one, adding a real sense of occasion to the funeral. These carriages are totally handmade and very strong for long life. The body of this carriage is made of treated wood. Excel Shafts are MS steel and fitted with bearings. Steering is very soft moving like power steering of cars and made of wood and steel. We have an excellent work-team for wooden work. This carriage has solid rubber tires that are wear-resistant, high temperature, and corrosion-resistant, anti-static, the tires have been available for more than 10 years. All the products are pure manual welding, carefully polished, and aesthetically pleasing. It has a royal look fully Glass-covered carriage. This carriage has a square box and two doors to the coffin that can easily adjust under it. There are small wheels fitted under the funeral box. This carriage can be made on customized dimensions given by the buyer. Mostly we export carriages within 15-30 days after placing an order. We have all rights to stuffing containers from our factory. We carefully done triple-layer packing and then stuff our product in a container with proper care and handling. We provide a proper certificate for each and every product known as a fumigation certificate which shows that our products are much better than the standard value of products in all countries. We take responsibility for our goods till the clientís house and all goods are covered under insurance which is valid throughout the world. We do our best efforts to make our goods properly finished and look more elegant than everyone praises about products. If you want to do any changes to this product you can contact us on our Whatsapp number: +919815224101, +918675333339. You can also make a video call with us on our contact no. for close Zoom-up and see the high-quality of original products. A customer can also easily compare the quality of our products with local vendors. We are making Export worthy Products. You can also check out more products from our website https://www.dstexports.com/

Dst Exports are original manufacturers and exporters of all type of Horse Drawn Carriages such as Cinderella Horse Carriage, Vice Versa Horse Carriage, Two Seater Horse Carriage, Victoria Horse Carriage, Surrey Carriage, Passenger Tourist Carriage, Multi Purpose Carriage, Horse Drawn Landau, Horse Drawn Surries, Horse Drawn Hearses, Funeral Carriage, Atm Fitted, Vending machines fitted carriages, Horse Drawn Carriage, Pleasurable Room Type Gipsy Caravan Carriage, Horse Drawn Gigs, Horse Drawn Mini Sleighs Glass Coach Type Horse Drawn Carriage, Phaetons Traditional baggies / Tangas to Victoria type Vice Versa Covered Room Type, Royal Glass Coaches Presidents Presidential Carriages Guard of Honor Republic Day Celebration Carriages Wedding Purpose Carriage School going kids Transportation purpose carriages Religious Priests Baggies Procession Carriages Advertisement purpose.