Our Other Websites
* Courier/Shipping charges are extra as depend on your order.
* The much you buy the less will be shipping charges.

| | |
| --- | --- |
| Presidential Royal Horse Drawn Carriage | |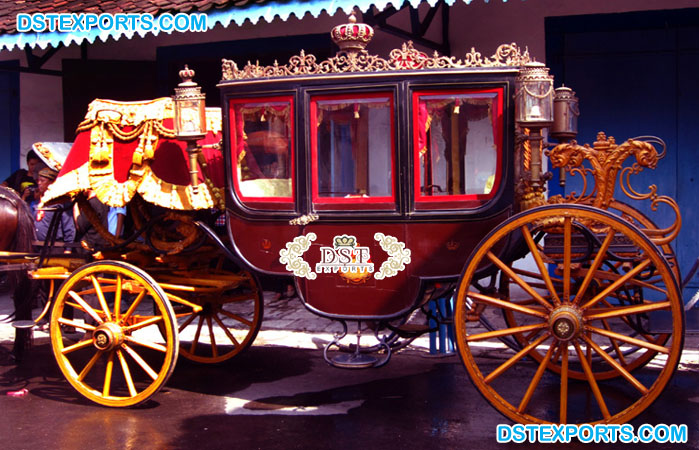 European Royal Family Horse Carriage Sale - This is a presidential carriage manufactured by DST EXPORTS well known as Royal Black Gold Horse Drawn Carriage. This luxury Carriage has black golden combination. This is a box-type covered carriage. There are two options available in this carriage, one with AC and another without AC. Due to its golden plating, it gives a modern look. This type of carriage is worldwide popular. Here is the formation of this carriage- Chase and body of the carriage are made with ms steel and wood for long life, wheels are wooden top globe is made of ms steel. This is a high-quality deco painting. It can be pulled by one and two horses. It has four fitted disc brakes. This carriage seat is made of leather, crystal fitted, well furnished. The seat cover of the carriage is changeable and washable. The Carriage is drawn by a pair, is one of several kinds of vis-ŗ-vis, a social carriage with facing seats over a dropped footwell (illustration), which was perfected by the mid-19th century in the form of a swept base that flowed in a single curve. The soft folding top is divided into two sections, front and rear, latched at the center. These usually lie perfectly flat, but the back section can be let down or thrown back while the front section can be removed or left stationary. When fully opened, the top can completely cover the passengers, with some loss of the graceful line. The landau's center section might contain a fixed full-height glazed door, or more usually a low half-door. There would usually be a separate raised open coachman's upholstered bench-seat, but a landau could be postilion-driven, and there was usually a separate groom's seat, sprung above and behind the rear axle, saving the groom from having to stand on a running board. We have lots of designs for this carriage. You can choose any design, color, and shapes as per your requirements. You can use this for multipurpose use like a wedding, entrance, reception, and another occasion. You can use this for multipurpose use like a wedding, entrance, reception, and another occasion. For any type of query or if you want to make any changes in this product you can freely talk with us on our contact/Whatsapp no.- +919815224101, +917696522022

DSTEXPORTS are best manufacturer and exporter of all horse-drawn carriages manufacturer such as Air Condition Fitted Horse Drawn Buggy, Tourist Long Horse Drawn Buggy Carriage, Stylish Victoria Touring Horse Buggy Vehicle, Royal Black Horse Drawn Buggy Carriage, Royal Presidential Horse Buggy Carriage Ruth, Traditional Indian Black Buggy Carriages, Black Victoria Buggy Carriages Maker, Museum Horse Drawn Carriage, Vis a Vis Carriage, Small Victorian Style Carriage, Maharaja Horse Drawn Buggy Carriage For Sale, Elegance Wedding Victorian Horse Drawn Carriage etc. We also supplied Horse Carriage Decorations and accessories such as horse costume, horse belts, carriages lamps etc so please feel free to contact us and give us chance to serve you the best. These carriages are available as two-seaters, three-seaters, four-seater, five-seaters, depending on the clients' requirement.